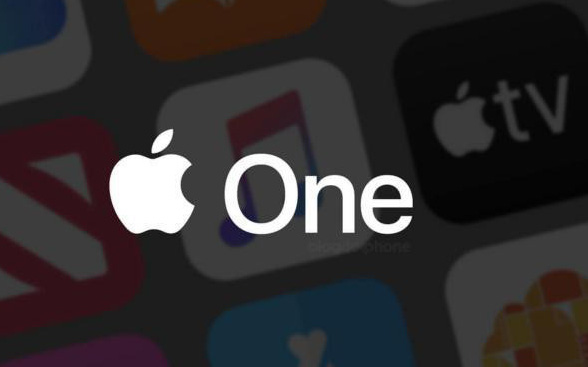 Apple One is an integrated subscription to Apple's previous paid services, allowing users to easily manage inside an application, but the price is not cheap either.
Apple's new product launch event has ended. Rumors blowing about an event without four iPhone 12 models are completely accurate. During its presentation, Apple focused on two main products, the Apple Watch Series 6 and the iPad 2. Besides mobile products, Apple also launched additional services, which is Apple One.
So what is Apple One?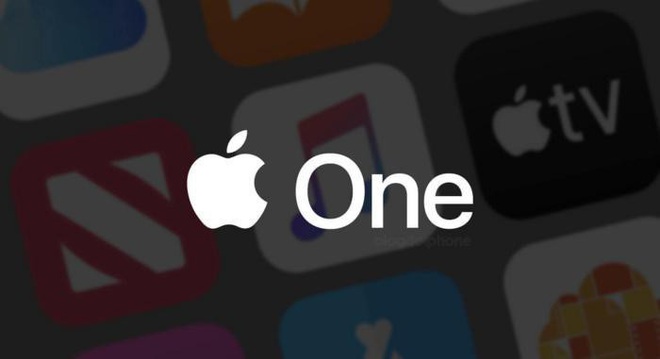 Apple One is a monthly subscription that includes all of Apple's previous free and paid services such as iCloud, Apple Music, TV, Arcade, News and the latest Fintess. This is a way for users to easily centralize management of their services through a single interface, serving the needs of more comfortable watching online TV, entertainment and other services of the company.
The difficulty of previous users is that they want to use a service to go through separate registration steps, so they can not control the expiration time as well as when the subscription automatically expires, or recharges. money to the card to continue using.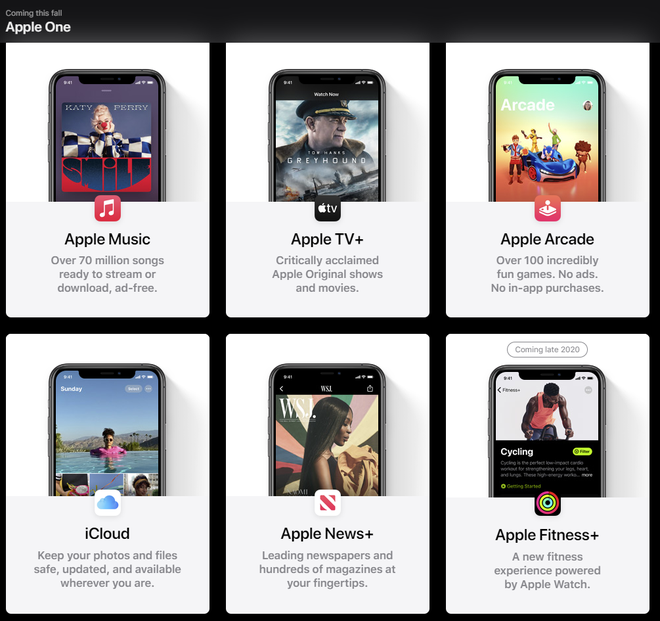 So from now on, they will only need 1 click to easily manage all their subscriptions through a common Apple One interface. In addition, Apple has also reduced the prices for every service inside.
What will the above services look like when they are merged into Apple One?
Users have 3 options for payment and usage such as: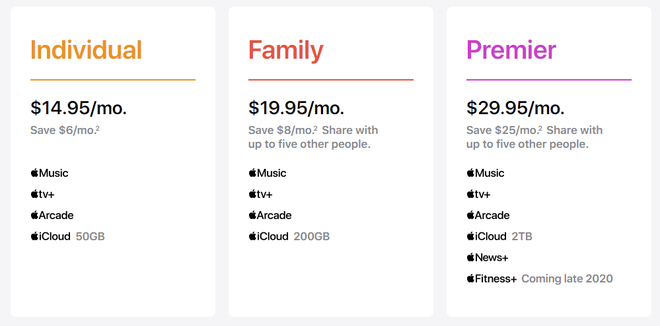 Personal plan: Applicable to the US market, costs 14.95 USD / month and includes access to Apple Music, TV, Arcade and iCloud (50GB additional cloud storage usage).
Family Package: For family or 5 different accounts, you can share Apple Music, TV, Arcade and iCloud (plus 200GB of cloud storage) with the price of 19.95 USD / month.
– Premier Package: This is a full package of 6 additional services for News and Fitness (a service aimed at people interested in health and sports). Users will have to spend 29.95 USD / month. However, this package is not extended to add users, but only a maximum of 5 accounts such as family plan. In addition, the iCloud capacity that users will receive is up to 2TB.

Starting this fall, Apple One individual and family plans will be available in more than 100 countries and regions. The Premier package will be available in Australia, Canada, the UK, and the US where Apple News is available, while Apple Fitness will be released between now and the end of the year.
After signing up, customers can enjoy Apple One bundled services on any platform where the service is available such as iPhone, iPad, Macbook or like Apple Watch.
According to Apple, users who sign up for a personal Apple One plan offer savings of more than $ 6 / month, while the family plan saves more than $ 8 / month and the Premier plan – more than $ 25 / month.
In the event, customers who pay for Apple One subscriptions with an Apple Card will get a 3% cash refund.
By source and photo: Apple